Raclette Wine Pairing
Updated July 18th 2023
Which is the best wine for Raclette? This cheesy Swiss dish pairs well with several wines, but especially with white wines that have a touch of sweetness to balance the fatty, flavorful cheese. This food and wine guide will help you find the best wine pairings for Raclette.
Raclette is a Swiss dish that consists of melted cheese, boiled potatoes, and sometimes meat and pickles. Raclette means "to scrape" and refers to the scraping of the melted cheese onto the plate. Cheese is the main ingredient in this dish, and when pairing Raclette with wine we need to choose one that pairs well with this ingredient. Keep reading if you want to know which wine to pair with this delicious Alpine dish.
What is Raclette?
Before we look into wine pairing we should talk about Raclette and the profile of this dish. If you want to find the best wine for your food, you always need to take into consideration the unique characteristics of both the food and the wine.
Raclette is a popular dish from Switzerland. It has been historically popular in other Alpine countries and lately its popularity has spread to the rest of the world. Raclette is simply described as melted cheese over potatoes and sometimes meat. It is common to serve this dish with cornichons, a type of pickle. Traditionally, the raclette cheese was heated in front of an open fire, but today it is common to use an electric table-top grill called raclonette. Once the cheese melts it is scraped and poured over boiled potatoes and sometimes cured meat. When using the raclonette, the cheese is cut in slices approximately 1 cm thick before being placed on the grill. The rich cheese and the cooking method of Raclette makes it a perfect winter dish.
Note: Only the specific cheese called Raclette can be used to make Raclette. It is a round, semi-hard Swiss cheese that melts easily. It is creamy, slightly salty and a little bit sweet.
About Raclette wine pairing
In order to find the best wine for Raclette let's take a closer look at some of the most important characteristics of this dish:
Fat - Raclette is a fatty dish. The dish consists mostly of cheese, which makes it a rich dish. Pair it with a wine with high acidity to cut through the fat of the cheese.
Sweetness - the typical Raclette cheese is slightly sweet. A wine with a touch of sweetness will be a great pairing.
Salty - the cheese is salty and is best paired with a relatively rich and aromatic wine.
Acidity - pickles add acidity to the dish, which needs to be balanced with a wine with good acidity.
Riesling with Raclette
Riesling is our top wine recommendation to Raclette. Riesling is a fresh, aromatic white wine with floral aromas and intense citrus flavors. Its high acidity and hint of sweetness make it a perfect wine pairing to Raclette. The characteristic razor sharp acidity of Riesling will break down the fat in this dish and keep your palate fresh during the meal. It will also match the acidity from the pickles. Riesling wines, even those made in the dry style, have a hint of residual sugar that perfectly balances the aromas of the Raclette cheese. The aromatic profile of Riesling makes it a perfect match for this salty and rich cheese dish.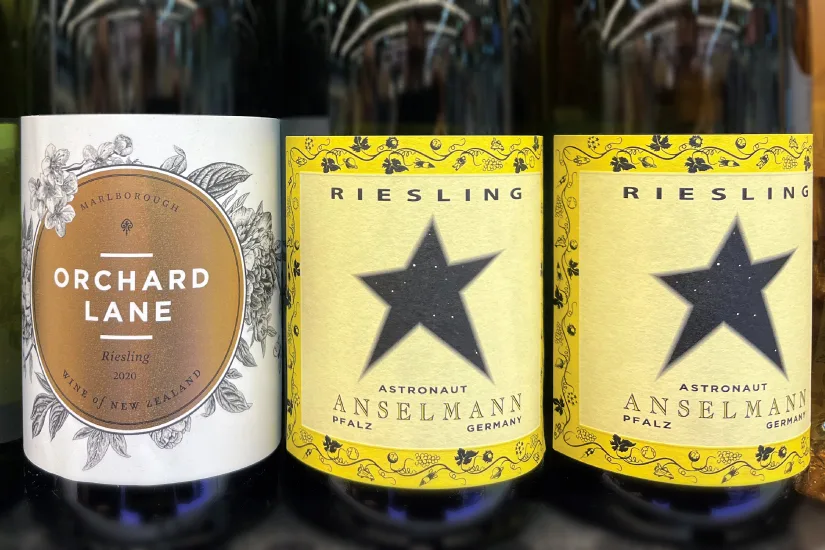 Tips! Do you want to know which other dishes to pair with Riesling? In our Riesling Food Pairing Guide you will find the answers.
Red wine with Raclette
Do you prefer to drink red wine with your Raclette? No problem, there are several good red wine pairings to this dish. We recommend choosing a fruity, light- or medium-bodied red wine with high acidity. This type of red wine will balance the fat and acidity in the dish without overpowering the typical aromas of the Raclette cheese. Pinot Noir is a great red wine pairing to Raclette, especially if you serve it with cured ham. Beaujolais Nouveau or other Gamay wines are also good red wine pairings to this dish.
White wine with Raclette
Riesling is, of course, not the only white wine you can drink together with Raclette. Most aromatic, fresh white wines with high acidity will be a good choice for pairing with Raclette. The key is to choose a wine with good acidity in order to balance the fat of the cheese. An aromatic white wine is often the best choice to match the strong flavors of the cheese. Pinot Gris or Sauvignon Blanc, especially fruitier styles like New Zealand Sauvignon Blanc, are good pairings. A Rousette de Savoie is also a good pairing to Raclette.
Enjoy your Raclette and your wine!
Latest guides