Pinot Noir Food Pairing
Updated July 19th 2023
What food goes well with Pinot Noir? This light-bodied red is one of the most popular grape varieties in the world and many people wonder which food to pair with it. In fact, this fresh strawberry-flavoured and earthy wine pairs with a wide range of dishes and cheeses. This guide will help you to find the best food for your Pinot Noir.
Pinot Noir is a lovely grape variety which is planted in many countries in the world. This delicate grape is not easy to grow, but when it is done well it creates beautiful light-bodied red wines. With its characteristic flavours of red fruits, rose, earth and rhubarb, it pairs very well with many different dishes.
About Pinot Noir Wine
Pinot Noir is one of the most popular grape varieties in the world. The name comes from the French words for "Pine" and "Black" and refers to the pine cone-shapes grape clusters on the vines. Pinot Noir is originally from Burgundy in France, but today it is planted all over the world. It is one of the most planted grape varieties and it is best grown in cooler climates.
Some of the most well-known regions outside France are Oregon, Sonoma Coast, Martinborough and Marlborough in New Zealand, Napa Valley as well as different regions in Germany, Australia, South Africa and Chile. France is the largest producer of Pinot Noir, followed by the USA and Germany. In Germany, however, the grape is called Spätburgunder and is mostly found in Baden and Pfalz. The most famous, and most expensive, Pinot Noirs come from Côte-d'Or in Burgundy. Pinot Noir is also one of the three grape varieties used in Champagne.
Pinot noir is a difficult grape variety to grow and the quality of the wines varies. Pinot can be made in a wide range of aromas and textures which can be confusing for the consumers. In general, it is safe to say that a wine made from Pinot Noir is light to medium bodied with soft tannins, good acidity and characteristic red fruit aromas of strawberry, cherry, current and raspberry. Some Pinots, especially from Burgundy, tend to have more noticeable flavours of earth and vegetal. Floral aromas of rose are also common for Pinot Noir.
Pinot Noir wine from the New world, especially California and New Zealand, tend to be more powerful and more fruit forward. Pinot Noir from Oregon share many similarities with the Pinot Noir from Burgundy, with the exception that it tends to be higher in alcohol ands fruitier. Spätburgunder from Germany is also lighter and delicate in its profile.
Pinot Noir food pairing
Pinot Noir is often named the most versatile grape which makes it excellent for food pairing. Most of the Pinot Noir wines are light, fresh, fruity and pleasant to drink. This type of wine pairs with a wide range of dishes, such as poultry, cheese and even fish.
When finding the perfect food for your bottle of Pinot Noir, you need to consider the following characteristics the wine:
Delicate berry aromas - pair it with food with equally delicate aromas.
Light body - pair it lighter meat dishes food, such as duck or chicken.
High acidity - you can pair it with acid food as well as food with high fat content.
A Pinot Noir is best served slightly chilled at 12-15°C / 37-59°F.
Pinot Noir with Duck & other Poultry
Although Pinot Noir is a versatile grape, many people would argue that it was made to go with duck and other game birds. Quail, turkey, goose, duck, game hen and partridge cooked in almost any way will be delicious with a glass of Pinot. The red fruit flavours, light tannins and earthy aromas makes it ideal for the finer flavours of fame birds.
Tips! Pair heavy bird dishes (duck, goose or turkey) with richer Pinot Noirs from Burgundy and the New World (Sonoma, California, New Zealand or Chile). Pair lighter bird dishes (quail and chicken) with more delicate Burgundies or Pinot Noirs from Oregon and Germany.
Pinot Noir Cheese Pairing
What kind of cheese goes with Pinot Noir? Is a match made in heaven if it is paired correctly. A light-bodied red wine like Pinot Noir is best paired with semi-soft cheeses like Gruyère, Comté, Emmenthal and Gouda. It also pairs well with pungent (stinky) washed-rind cheeses like Epoisses, Taleggio and Reblochon. If you want a wine to serve together with both cheese and charcuterie, Pinot Noir is usually a great choice. If you want to learn more about wine and cheese, you will find lots of information in our wine and cheese guide.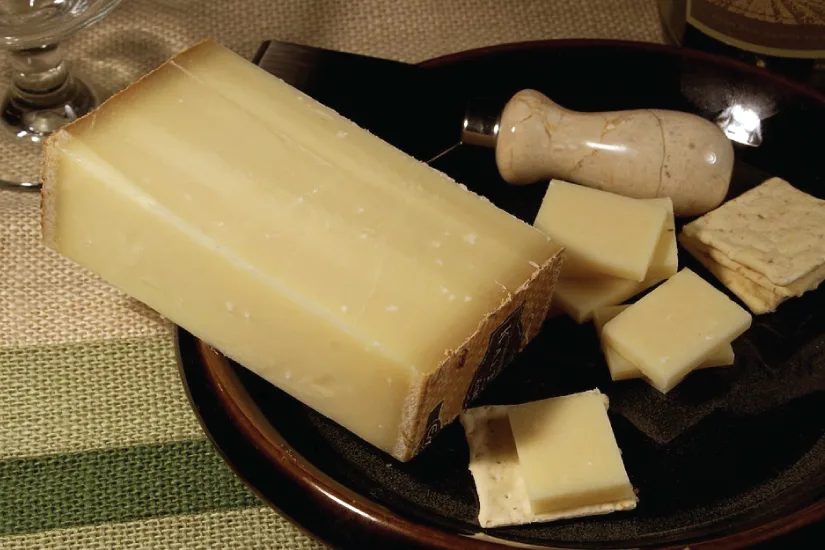 Pinot Noir with Fish
Pinot Noir is one of the few red wines that pair excellently with fish. There are many misconceptions about pairing wine with fish, as most people think you can only drink white wine with fish. In fact, red wine can be a much more exciting pairing. Full-bodied red wines like Cabernet Sauvignon almost never pair well with fish, but light-bodied reds like Pinot Noir can be great with heavier fish dishes. Grilled fish is a perfect opportunity to serve a red wine instead of a white. The smokey flavours from the grill will pair perfectly with the earthy and red fruit aromas of the Pinot.
Pinot Noir with Vegetarian food
Many people find vegetarian food and wine pairing a bit difficult, because of the many different flavours and characteristics of vegetarian cuisine. Pinot Noir can be served with some types of vegetarian dishes, such as risotto, pasta, grilled vegetables or dishes with tahini sauce. To learn more about Wine and vegetarian food parings, please see our extensive wine guide for vegetarian food.
Tips! Pinot Noir is almost always an excellent pairing with mushrooms or truffels due to its earthy flavours. Try it together with mushroom pasta or truffle risotto!
Pinot Noir with Pasta
Does pinot noir go with pasta? Yes, it sure does! This light-bodied red wine pairs very well with tomato-based pasta.The high acidity and soft tannins will complement the sweet and bright tomato sauce. Pinot Noir also works well with pastas with roasted vegetables, lean meats and pesto sauces.
Pinot Noir with Appetizers & Snacks
Lean structure and high acidity make Pinot Noir an excellent wine for many different appetisers and snacks. When you want a wine to go with many different types of finger foods and snacks, a delicate Pinot Noir is usually a good choice. It pairs well with different types of charcuterie and sausages, including peppery salamis.
It also pairs well with different types of cheeses, which makes it an excellent wine for a cheese platter. Anything with mushrooms will pair well with this earthy wine. Also figs, walnuts and chips is can be served with your Pinot.
Pinot Noir with Meat
Pinot Noir is usually paired with leaner meats and poultry, but richer and more tannic Pinots can be delicious with meaty stews like beef bourguignon. They can also pair well with grilled meats with sweet and smoky BBQ flavours. Especially grilled pork and bacon will taste good with a Pinot Noir.
Pinot Noir with Desserts
What dessert goes well with Pinot Noir? The answer is chocolate! The sweet red fruit flavours in the wine complement chocolate perfectly. Chocolate-covered strawberries, chocolate mousse or plain chocolate bars are good dessert pairings for Pinot Noir. Remember that a sweet dessert is usually better with a sweet wine, but a dark chocolate will also pair well with a dry wine like Pinot Noir.
Enjoy your food and wine!
Latest guides