Mushroom Wine Pairing
Updated November 7th 2023
What is the secret to pairing wine with mushrooms? A general rule of thumb is to consider how the mushroom is cooked and other ingredients in the dish. In this guide you will learn more about how to choose wine for popular mushroom dishes, including risotto, pasta and soup made of mushroom.
General wine pairing rules for mushroom
Red or white wine for mushroom dishes? In fact, mushrooms pair well with both red and white wines. Most red wines with earthy aromas, such as Pinot Noir and Nebbiolo, will be excellent wine pairings with mushroom dishes. If you prefer white wine, opt for a full-bodied oaked white wines. Before diving into different mushroom dishes and wine pairings, let's look at some general rules to apply when choosing a wine to match with mushrooms.
Cooking method: Mushrooms fried in butter are heavier than raw mushrooms and consequently they pair with a more full-bodied wine. Fried, roasted and grilled mushrooms are heavier and richer than raw or boiled mushrooms.
Cream & fat: Are you making a creamy mushroom soup or frying mushrooms in butter? Make sure to choose a wine with high acidity which cuts through the fat. A medium or full-bodied white wine, such as an creamy oaked Chardonnay, is usually a good choice.
Earthy aromas: Think about the flavors of the mushrooms and try to match them with the wine. Mushrooms usually have earthy aromas which will pair well with wines with similar profile, such as Pinot Noir.
Condiments: Which other ingredients are in the dish? Sometimes the wine pairing depends on other ingredients than the mushrooms. If the dish is spicy or aromatic, make sure to choose a fruity or aromatic wine.
Best red wine with mushroom
Which red wine pairs best with mushrooms? Many! The earthy tones in mushrooms make them a good match for many different types of red wine. When in doubt, choose a Pinot Noir for your mushroom dish. This earthy and berry red wine has a great acidity which balances the fat in many mushroom dishes. Nebbiolo, the grape variety in Barolo, is also an excellent choice, especially if the dish contains meat. Other good grape varieties include Sangiovese, Grenache, Cabernet Franc, Merlot, Cabernet Sauvignon, Shiraz and Barbera.
Red wine works with most mushroom dishes, but especially heavier dishes with meat, cheese or creamy rice. Certain types of mushrooms also pair better with bolder red wine instead of white, these include:
Portobello
Porcini
Shitake
Tips! Do you want to know more about Pinot Noir - the perfect grape variety for mushroom dishes? Read more in our popular Pinot Noir food pairing guide.
Best white wine with mushroom
If you prefer white wine, it is often best to choose a medium to full-bodied white wine aged in oak. The oak-aging gives the wine a creamy, sometimes buttery, texture which matches well with mushrooms. This is especially true if you pair it with mushrooms fried in butter or mushrooms dishes with cream. A rich oak-aged Chardonnay, Viognier or Chenin Blanc are often good wine pairings.
Some types of mushrooms also pair better with white wine instead of red, these include:
Chantarelle
White mushrooms
Oyster mushrooms
Although, if the mushroom is part of a sauce served with a steak or other heavy ingredients, consider choosing a red wine.
Tips! Do you want to know more about pairing Chardonnay with food? Check out our guide Chardonnay Food Pairing.
Best wine with Mushroom soup
A delicious and creamy mushroom soup is best paired with an earthy red wine. Pinot Noir is almost always a good choice for this type of dish, but you can also choose a lightly oaked Chardonnay or Chenin Blanc. The high acidity of the wine will balance the creamy texture of the soup.
Tips! Read more about wine pairing with different types of soups in our Wine & Soup Pairing Guide.
Best wine with mushroom toast
A toasted bread with butter-fried mushrooms is a true delicacy. Simple, yet delicious. Try it with chantarelles or other lighter mushrooms to let the umami flavour truly shine. The best wine pairing for a mushroom toast is often a medium or fullbodied white wine aged in oak, such as Chardonnay. The wine should have good acidity to cut through the fat of the toast. The buttery aromas and creamy texture from the oakbarrel will match the toast perfectly.
If you prefer a red wine, choose a light-bodied style with good acidity, such as a Grenache or Pinot Noir.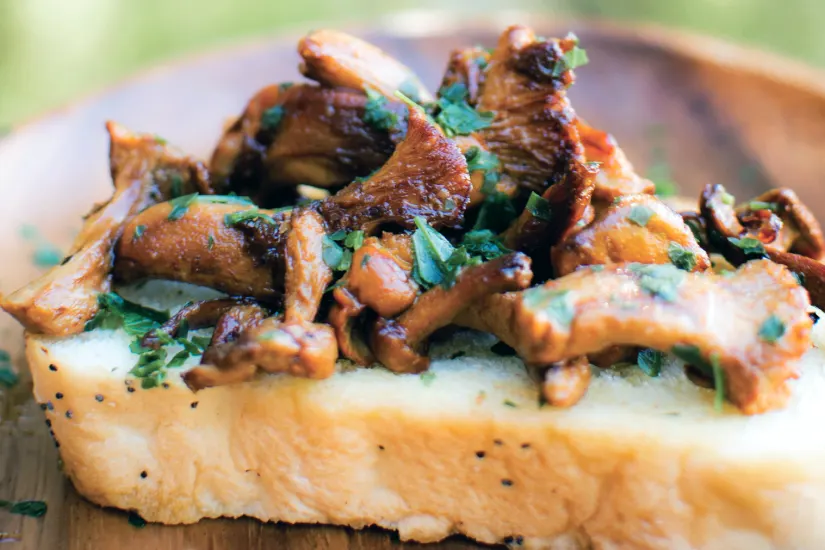 Best wine with mushroom pasta
A pasta with mushrooms is a lovely dish which can be paired with both red and white wine. If your pasta is more rustic, perhaps with a clody broth or meat, it is good to pair with more rustic wines, such as Nebbiolo, Syrah or Sangiovese. If the pasta contains cream you can pair it with a white wine, ideally a buttery Chardonnay or a creamy Viognier.
Best wine with mushroom risotto
Mushroom risotto is a great dish to bring out the flavours of the mushrooms. It is also a popular dish among vegetarians. A risotto with mushroom can be a bith heavy due to the fat it contains. Make sure to pair it with a wine with good acidity. We recommend a Pinot Noir or Barbera to mushroom risotto, but even richer red wines like Barolo can work well.
Best wine with meat with mushrooms
Mushrooms are a great side dish to meat. The umami flavour balances the savoury and juicy meat in a lovely way. Mushrooms are also popular ingredients in sauces served next to the meat. The best wine pairing for meat dishes with mushrooms are full-bodied earthy and fruity wines with good acidity. Nebbiolo, Cabernet Sauvignon, Cabernet Franc and Shiraz are good choices. A more full-bodied Pinot Noir or Merlot, perhaps from the new world, can also be a great pairing.
Best wine with mushroom pizza
Mushrooms on pizza are a great match. A pizza with mushrooms has lots of umami and earthy flavors. The best wine for this type of pizza is a Sangiovese, Pinot Noir or Barbera. The acidity, fruitiness and earthy flavours of the wine will balance, but not overwhelm the mushroom flavors. The acidity in the wine will help balancing the fatty cheese on the pizza.
Enjoy your wine together with your mushroom dish!
Latest guides