Grenache Food Pairing
Updated July 21st 2023
Which type of food pairs best with Grenache - a spicy, fruity red grape variety? Grenache is a food-friendly wine which pairs beautifully with dishes with smokey aromas and/or spicy food. This wine guide will help you find the best food parings for this interesting grape variety.
Grenache food pairing is not very complicated. Its savory aromas mixed with a fruity profile make Grenache an excellent pairing with flavorful and hearty dishes, including roasted meat, BBQ, vegetables, stews and aromatic food. Find your favorite Grenache pairings below.
About Grenache
Wines made from Grenache tend to be medium-bodied with high alcohol, medium acidy and smooth tannins. Grenache wines usually lack deep color and are often described as semi-translucent. They are highly prone to oxidation, which means that even young Grenache wines can show brown or "brick" colors.
Grenache is a popular grape to use in blends because it does not add color or tannins to the blend. When used in a blend, it adds delicious red fruit aromas and spice. Grenache is often blended with other varieties such as Syrah, Tempranillo, Carignan, Cinsaut and Mourvèdre. The famous GSM blend is made mostly of Grenache, Syrah and Mourvèdre.
Famous blends with Grenache are:
Châteauneuf-du-Pape
Other GSM blend from Côtes du Rhône
Grenache is one of the most widely planted red grape varieties in the world. It most likely originated in Spain, where it is called Garnacha. This grape likes hot and dry weather and is widely planted in the following wine regions:
Spain: Priorat, Aragon, and Rioja.
France: Southern Rhône Valley, Provence and Languedoc-Roussillon.
US: California.
Italy: Sardinia, Tuscany and Umbria.
Australia: South Australia and Hunter Valley.
Grenache Tasting Profile
Grenache and Garnacha are relatively easy to identify due to the grape's unmistakable flavor of spice and red fruit. Cinnamon and white pepper blends with raspberry, cherry and strawberry. It is also common, especially in Grenache from France and Italy, that the wine has aromas of leather, herbs and tobacco.
Fun fact: Despite being a red grape, it is not uncommon that Grenache wines display citrus flavors of grapefruit and orange peel.
Grenache vs Garnacha - what is the difference?
The grape variety's origin is Spain, where it's known as Garnacha. Although, it has become world famous because it is an important component of some of the most expensive French wines. When grown in France and other countries outside of Spain, it is called Grenache. What is actually the difference between the Spanish Garnacha and the French Grenache?
Generally speaking, most bottles of Grenache and Garnacha are going to taste quite similar. Northern Spain and Southern France have hot and dry climate, which is ideal for this grape variety. Both Grenache and Garnacha are know for high alcohol and aromas of red fruit, cinnamon, pepper and sometimes orange zest. When grown in cooler regions, or in vintages from cooler years, the grape can also have savory notes of herbs, tobacco and leather.
Spanish Garnacha
Garnacha, also called Garnatxa in Catalonia, thrives in warm, dry climates which makes Northern Spain an ideal place for this grape. Garnacha is known for its high alcohol levels, often above 15%, as well as characteristic aromas of spice, grapefruit, red cherry and licorice. In Priorat and Montsant, two of the most famous Garnacha regions in Catalonia, the grape is usually blended with a small amount of Carignane. The style is robust and fruity.
French Grenache
There are many Grenache-based wines from Southern Rhône Valley in France. Grenache from France is almost always used in blends, often with Syrah. Typical notes of red fruit, white pepper, herbs and tobacco. Rhône can be slightly cooler than northern Spain, which results in wines with slightly less alcohol as well as a more savory profile with aromas of herbs. In the region Languedoc-Roussillon it is possible to find bottles with 100% Grenache.
New World Grenache
What about Grenache grown in the US, Australia and other parts of the world? Naturally, it depends on the climate of the wine region but, in general, New World Grenache wines tend to be fruitier with less herbal aromas. Licorice and sometimes even floral aromas are common.
About Grenache Food Pairing
Grenache is a popular pairing to many dishes, especially hearty heat dishes or grilled food. It also pairs well with flavorful and spicy dishes due to the spicy profile of the wine.
In order to find the best food for your bottle of Grenache, you need to take into consideration the following characteristics of the wine:
High alcohol level - best paired with robust and heavy dishes.
Spicy and fruity aromas - makes it possible to pair with aromatic, spicy food.
Medium body - pair it with a wide range of dishes.
Medium acidity - possible to match with food that has relatively high fat content and/or acidity.
Grenache is best served slightly chilled. The best serving temperature is 14-17°C (57-63°F).
Grenache with Meat
Grenache and Garnacha wines are perfect pairings to meat. Red wine in general pairs well with meat, but we dare to say that GSM blends and robust Garnacha pairs exceptionally well with hearty and/or smokey meat dishes. Grenache with steak, lamb or pork will not go wrong. This grape pairs very well with hearty dishes from France, Spain and Portugal. Rabbit, pork and other types of meats cooked for hours in stews will be excellet together with this type of wine.
Try GSM blends with ribeye steak or a Garnacha from Priorat with smoked beef brisket. A slightly savory and herbaceous Grenache from Rhône will pair beautifully with roasted lamb with herbs. Spanish Garnacha with venison or lamb stew are also great pairings.
Good meat pairings with Grenache are:
Roasted lamb with herbs
Stews
Beef brisket
Steak
Rabbit
Grilled pork
Venison
Grenache with BBQ
Grenache wine with BBQ deserves its own special mention because this grape variety loves smoke. Grenache pairs perfectly with smokey and charred flavors due to its flavor profile. The hint of spice in the wine will also pair well with flavorful and slightly spicy BBQ sauces.
Almost anything grilled will pair well with Grenache, for example:
Steak
Sausages
Chicken
Lamb
Vegetables
Halloumi
Vegetarian meat substitutes
Tips! Pairing raw or boiled vegetables with red wine can be overwhelming because the vegetables are bitter. If you grill them, they will get another texture and flavor profile which pairs much better with red wine.
Tips! Do you want more wine tips for grilled food? Take a look at our popular Wine & BBQ Guide.
Grenache with Stews & Soups
Hearty meat stews and Grenache wine are often a great pairing. Slow cooked stews, ideally with a bit of spice like paprika or pimentón, will match the spicy Grenache. Hungarian Goulash is an excellent example of a meat stew that matches the flavors and structure of Grenache. A rich red wine beef stew cooked for many hours is also a good pairing.
Thanks to its fruity and spicy profile, Grenache will also pair well with more aromatic stews, such as Moroccan tagines or a mild Indian curry.
Grenache with Spicy & Aromatic Food
Grenache has warm, subtle aromas of cinnamon and white pepper, and will match lovely with aromatic and slightly spicy dishes. Try to pair it with dishes seasoned with white pepper, allspice, cinnamon, cardamom, coriander, curry, cloves, garam masala and similar. Moroccan, Indian, Chinese and Mexican cuisines' dishes are usually good to pair with Grenache or Garnacha.
Are you looking for a red wine for your tacos? A fruity Garnacha pairs very well with tacos and other Mexican foods. Try it for youself!
Tips! Serve your Grenache slightly chilled when pairing it with spicy food. It will balance the heat.
Grenache with Poultry
A medium-bodied red wine like Grenache is possible to pair with a wide range of dishes, from relatively light poultry to more rich meat dishes. Grenache with turkey is know to be a good combination because the wine's juicy red berry aromas taste lovely together with the light meat. That makes it a good red wine to serve for Thanksgiving.
The red fruit and spices of Garnacha pair especially well with grilled chicken or aromatic poultry dishes such as:
Peking duck
Mild chicken curry
Grilled chicken
Skewers
Confit duck
Turkey roast
Grenache with Fish
Grenache is a flavorful wine with high alcohol, which makes it less ideal for delicate fish and seafood dishes. If you really want to serve Grenache with fish, make sure to choose a fatty fish like salmon, and ideally cook it on the grill to give those charred and smoky aromas that will pair well with the wine.
Tips! Are you looking for the best wine pairings for salmon? You will find them in our Salmon Wine Pairing guide!
Grenache Cheese Pairing
Grenache or Garnacha pairs well with cheese, especially hard or semi-hard cheese. Spanish Garnacha with Manchego cheese is a classic pairing that will not fail. If you are drinking French Gernache, you can pair it with Emmenthal cheese, Gruyère or Comté.
Garnacha with Tapas & Appetizers
Garnacha is a perfect with with heavier tapas, ideally with meat. Pair it with grilled sausages, cured ham, olives and bread. A bit of Manchego is always a good idea.
Appetizers that pair with Grenache include rillette, paté, charcuterie and olives.
Grenache with Vegetables
As mentioned above, raw or boiled vegetables can make a red wine taste bitter. To pair them with a rich red wine like Grenache, the best is to throw them on the grill. When the vegetables are grilled, they get charred and smoky aromas that pair much better with Grenache. Try it for yourself!
Tips! Read more about Wine & Vegetarian food in our popular guide.
Grenache Dessert Pairings
Pairing dry red wine with a dessert is usually not a good idea. The general rule is to always pair sweet food with a wine that is at least as sweet. But when it comes to Grenache, some people like to pair it with chocolate desserts and fresh red berries. Although, a port wine is probably a better choice for this dessert, it can be worth trying if you really want to drink a dry red wine.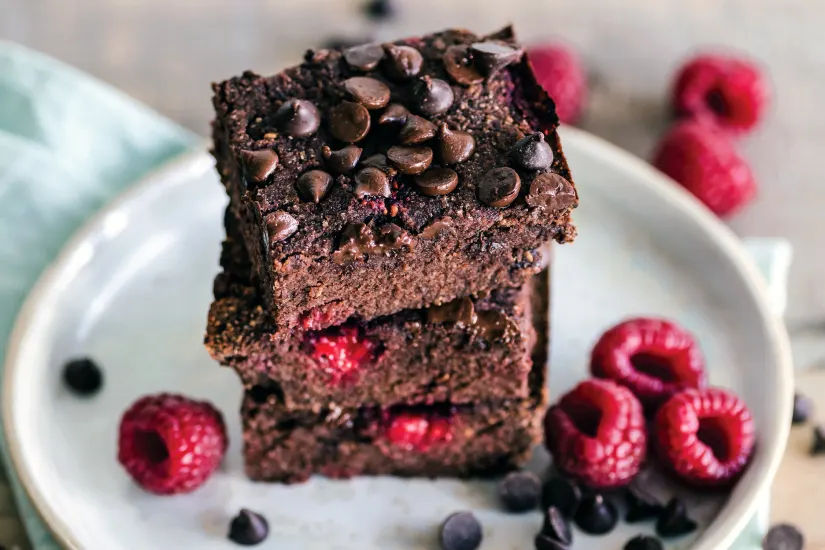 Tips! In our guide you can learn more about Wine and Dessert Pairings.
Enjoy your bottle of Grenache or Garnacha together with your food!
Latest guides