Chablis Food Pairing
Updated July 18th 2023
What kind of food goes with Chablis? Many! Chablis is a crisp, mineral white wine that pairs wonderfully with many different dishes. In this guide you will find the best food pairings for Chablis and learn more about this Chardonnay style from France.
Chablis is an excellent food wine. This fresh white wine from Burgundy, in France, pairs well with seafood and fish, as well as local delicacies like escargots and cheese. All Chablis is made 100% from Chardonnay grapes, but there are different styles in which this famous wine is made. Keep reading to learn how to pair Chablis with food.
About Chablis wine
Is Chablis the same as Chardonnay? Yes it is! However, it is a specific style of Chardonnay grown in the Chablis district, located within the Burgundy region in France. Chablis is the northernmost district of Burgundy. The climate here is cool, which gives dry, white wines with high acidity. Chablis wines are often described as having mineral, salty notes. "Steely" is a common description for Chablis wines. They are not as fruity as Chardonnay wines produced in warm wine regions.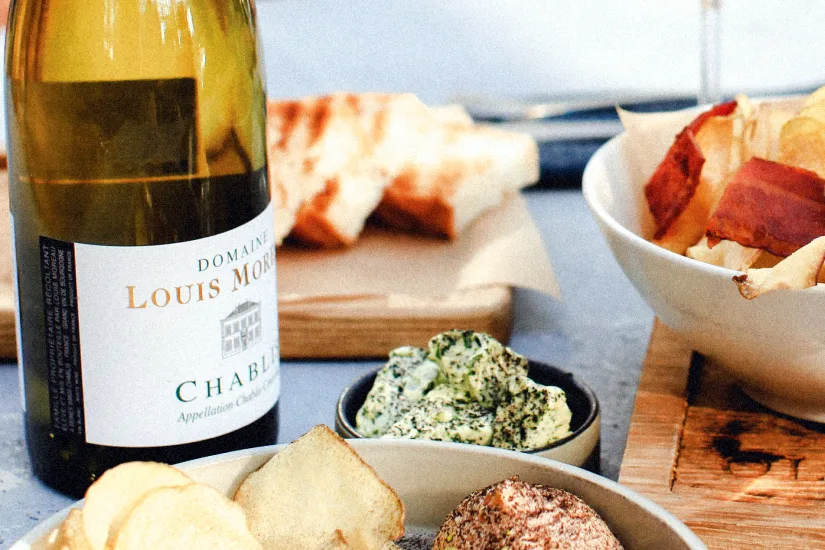 Most Chablis wines are vinified in stainless steel tanks and not matured in oak, which brings out the mineral notes and richness from the chalky soils where the vines are grown. Aromas of citrus, pear, apple, and salinity are also characteristic. This steely, unoaked style is affordable and the most common Chablis style. In this guide, we refer to this style when we write about Chablis.
There is another style called Petit Chablis, from a different part of the Chablis region. Petit Chablis wines are grown at a higher altitude than the typical Chablis, and are generally lighter and less complex. These wines are tart, crisp, mineral, and with citrus flavours. They should be enjoyed young, ideally 1-3 years from its release.
The Grand Cru and Premier Cru wines of Chablis are often matured in oak barrels, but usually for a short period of time. This style is more rich and creamy, but still fresh and mineral.
Chablis food pairing
Chablis is a great food wine that pairs with a wide range of foods, especially delicate seafood dishes, cheeses and poultry. The key when it comes to Chablis food paring is to keep in mind the following characteristics of the wine:
High acidity

- pair it with acid food (lemon, lime, tomato) and/or fatty food (deep-fried, butter)

Light to medium body

- this lean style is a great pairing to light and delicate dishes

Steely minerality

- pair it with dishes with lemon flavours and salinity (seafood)
Chablis should always be served cold, ideally at 7-10°C (45-48°F).
Chablis with seafood
If you are looking for a great wine paring for seafood, Chablis or Petit Chablis are excellent choices. These lean and mineral styles with tart acidity work well with delicate dishes with salinity and/or lemon.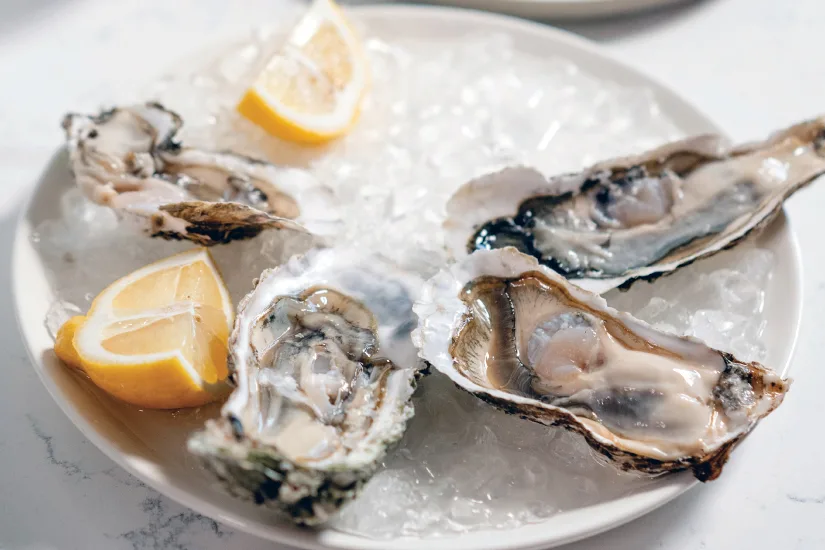 Try a bottle of Chablis with:
Scallops
Oysters
Clams
Mussels
Shrimps
Crab
Lobster
Spaghetti alla vongole
Moules marinières
Tips! For seafood dishes with butter or cream sauce - choose an oaked Chablis (Grand Cru or Premier Cru). This richer Chablis style is also the best with lobster.
Chablis with escargots
Chablis is from the famous French wine region Burgundy. The region is also famous for its food. One of the local delicacies is snails, or escargots as they are called in french. They are served with garlic and herbs. Chablis is a classic pairing for this iconic dish.
Chablis with sushi
Chablis is a great sushi pairing. When it comes to pairing sushi with wine, it's all about balance. This lean wine balances the delicate flavours of the raw fish. Its high acidity balances the fat in the fish and the minerality balances the salty soy sauce. Chablis pairs very well with sashimi, but also with sushi.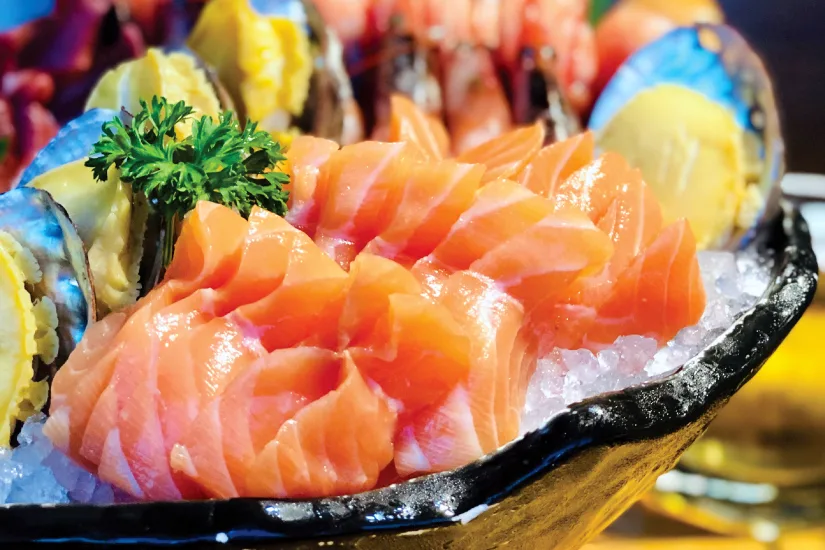 Chablis with fish
Chablis is a classic pairing with different fish dishes, especially fish seasoned with lemon, since it matches the citrus aromas in the wine. Chablis with fish is almost always a good choice.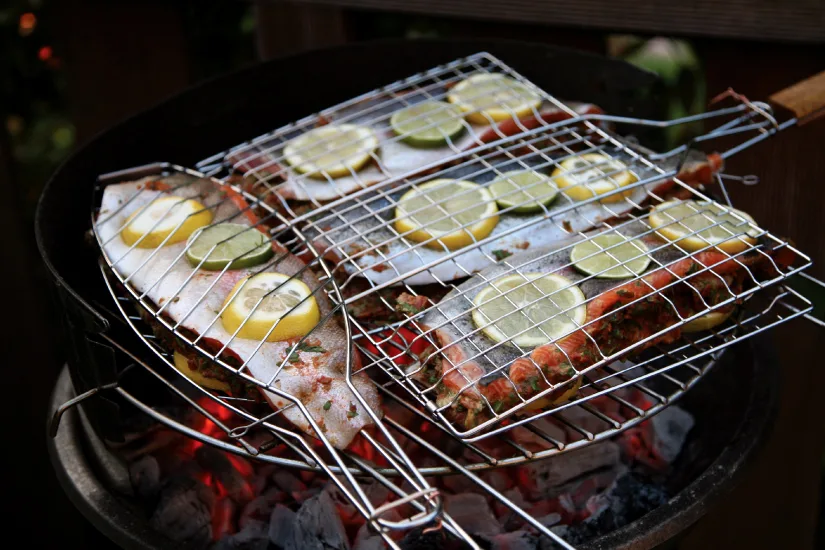 Try Chablis with the the following fish dishes:
Light fish dishes with lemon - choose a Petit Chablis or Chablis
Fish dishes with creamy sauces or butter - choose an oaked Chablis (Premier Cru or Grand Cru)
Deep fried fish - choose a Petit Chablis or Chablis
Chablis with chicken
Chablis is also a good pairing with poultry. The neutral profile of the wine makes it a good pairing for different poultry dishes, especially chicken.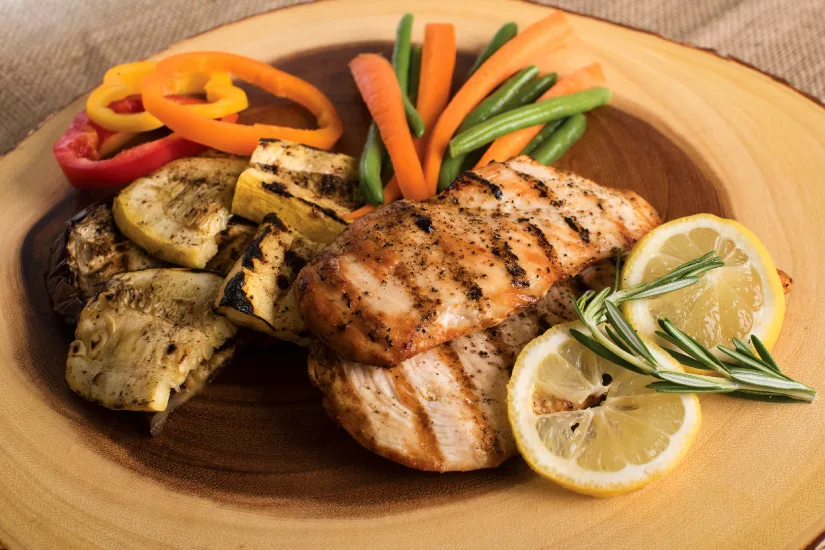 Try Chablis with:
Roasted chicken
Chicken with lemon
Chicken with "beurre blanc sauce"
Chicken salad
Deep-fried chicken
Butter chicken
Chicken curry
Chablis with spicy foods
Chablis works well with spicy food, if it is not too spicy. It is also a great pairing with Thai food. The lemon aromas in the wine will match the typical aromas of lemongrass in the Thai cuisine. Chablis also pairs well with mildly spicy Indian food.
Chablis with vegetarian food
With its good acidity, minerality and citrus aromas, Chablis is a safe choice for many vegetarian dishes and ingredients, such as fresh vegetables, salty cheeses, and deep-fried foods. Try it with:
Halloumi, feta, brie or mozzarella
Salads
Falafel
Tofu
Tips! To learn more about wine pairing for vegetarian dishes, we recommend our wine guide for vegetarian food.
Chablis cheese pairing
Chablis is a fantastic cheese wine. This crisp, mineral wine pairs well with many different types of cheeses. It is especially great with soft and creamy cheeses like Brie, Camembert and goat cheese.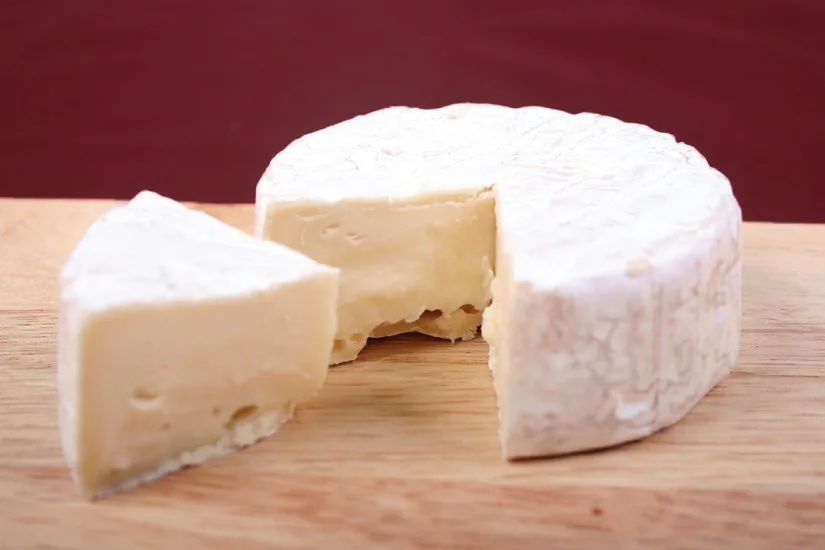 Chablis also pairs well with delicate fresh cheeses like Mozzarella, Ricotta, Feta and Halloumi.
Tips! Chablis is a great choice for a cheese platter with different types of cheeses.
Chablis snack pairing
Chablis is perfect for snacks and appetizers. A fresh, crisp glass of Chablis is good with different types of cheeses, chips and vegetables. The wine's high acidity makes it an excellent pairing for deep-fried finger foods.
Chablis dessert pairing
The tart lemon aromas of Chablis make it a good pairing with desserts that are not too sweet. Try Chablis with a lemon pie to match the flavours. Most people would, however, prefer a less dry wine, maybe a Riesling or a Late harvest Chardonnay, than Chablis to their desserts.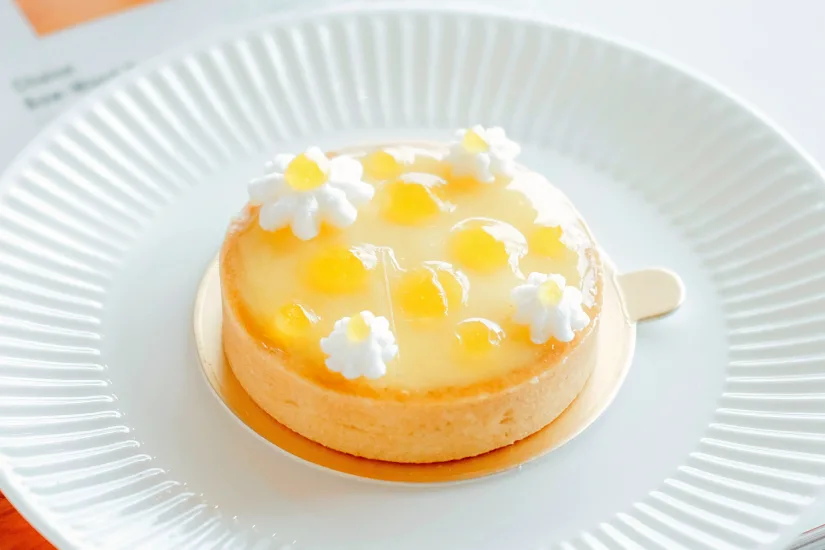 Enjoy your Chablis and your food!
Latest guides