Lambrusco Food Pairing
Updated July 21st 2023
The best food pairings for Lambrusco include a wide range of dishes - pizza, pasta, cheese and different types of cured meat. This fruity, red sparkling wine from Italy comes in different styles and sweetness levels, which makes it possible to pair with both savory and sweet foods. This wine guide will help you find the best food parings for your bottle of Lambrusco.
Do you think Lambrusco is just a cheap, sweet sparkling wine from Italy? If so, you may be surprised to know that Lambrusco can range from very dry to sweet. It is a frizzante, slightly sparkling, wine which is often refreshing and fruity - perfect to pair with food. Unfortunately, Lambrusco got a bit of a bad reputation in the past due to the mass distribution of very cheap, semi-sweet bottles. Give Lambrusco a chance to prove it is quality! As long as you are aware of the sweetness level of your specific bottle, you can pair it with a wide range of flavors and dishes.
What is Lambrusco?
Before we look into the best food pairings for Lambrusco, we need to understand what type of wine Lambrusco is. In fact, Lambrusco is both a red grape and a wine style made of that specific grape. There are several different styles of Lambrusco, but they are all fruity, refreshing, medium-bodied wines which are slightly sparkling, also called frizzante. Lambrusco is a red grape and consequently most Lambruscos wines are red, sparkling wines. Lambrusco can, however, also be made in a rosé style and white style, but they are less common.
The wine originated from the Emilia-Romagna and Lombardy regions, in the north of Italy. Modena, Parma and Reggio-Emilia are important production areas of Lambrusco. Several regions are classified as Lambrusco denominazione di origine controllata (DOC), which means that the wine fulfils a defined quality standard, and is produced within a specified region.
Lambrusco is not just one grape variety, but several. None of these are clones or sub-clones and they are all originating from the region Emilia-Romagna. The most common Lambrusco varieties are:
Lambrusco Grasparossa
Lambrusco Maestri
Lambrusco Marani
Lambrusco Montericco
Lambrusco Salamino
Lambrusco Sorbara
Lambrusco has, unfortunately, a somewhat bad reputation. In the 70s and 80s it was mass-produced and bottles of the sweet, cheap style of this wine were distributed all over the world. In fact, sweet Lambrusco was the most imported wine in the US during the 70s and 80s. It was very affordable, which was the main reason for its popularity. Today Lambrusco is gaining its reputation back due to the wide variety of quality levels and profiles of this wine.
Tips! Lambrusco is a refreshing wine which is best consumed young and slightly chilled.
What does Lambrusco taste like?
Generally, Lambrusco is a light, fresh, slightly sparkling red wine with aromas of cherry, rhubarb, blueberry, strawberry and violets. Some bolder styles give aromas of blackberry and also savory aromas of herbs, earth and chocolate. The tannins are soft and the acidity is medium-high, which gives a refreshing light to medium bodied red wine.
Lambrusco Sweetness Levels
Is Lambrusco sweet? Sometimes, but not always! There are several styles of Lambrusco, but the different sweetness levels are the most important factor when it comes to food pairing. The sweetness levels of Lambrusco are:
Secco (dry)
Semisecco (off-dry)
Amabile (semi-sweet)
Dolce (sweet)
In the past, sweet Lambrusco (Amabile or Dolce) were the most commonly found. Today, dry Lambrusco (Secco) semi-dry Lambrusco (Semisecco) are becoming increasingly popular.
Different Styles of Lambrusco
In addition to different sweetness levels, Lambrusco can also be made in different colors: Red, pink and white. The red style is by far the most common one, but Lambrusco rosé is gaining popularity. All colors are made with red grapes, but the skin contact is limited in the production process of the white Lambrusco as well as the rosé style. The colors of Lambrusco are indicated as following:
Lambrusco (red)
Lambrusco rosato (rosé)
Lambrusco bianco (white)
Also, you might see DOC indications on the bottles. Common styles include:
Lambrusco Grasparossa di Castelvetro - usually a bold, fruity style with more earthiness and tannins.
Lambrusco di Sorbara - usually a delicate, light style.
Lambrusco Salamino - another dry, full-bodied style with high acidity and fruity aromas.
Some people might wonder: is Lambrusco the same as Prosecco? The answer is no. Both are Italian sparkling wines, but they are slightly different from each other. Lambrusco is made from red grapes which gives the wine a different color and flavor profile from Prosecco, which is almost always made from white grapes. Lambrusco is a red slightly sparkling wine with aromas of red fruit and blueberries and Prosecco is a white sparkling wine with aromas of apple, pear, almonds and cream.
Tips! In our Prosecco Food Pairing Guide you will find more information about Prosecco.
About Lambrusco Food Pairing
Lambrusco is a great food pairing wine. Thanks to its refreshing acidity, soft tannins and fruity aromas, it pairs with a wide range of flavors and dishes. Charcuterie, hard cheeses, grilled chicken, pizza and different types of pasta are all good pairings with dry Lambrusco styles. Sweeter styles can be paired with fruits, cookies and chocolate.
Tips! Lambrusco wine comes from Emilia-Romagna, an Italian region known for many delicious food products, such as Prosciutto di Parma and Parmigiano-Reggiano. Try pairing Lambrusco with any of these local delicacies!
The key to finding the best food for your bottle of Lambrusco is to pay attention to the following characteristics of the wine:
Sweetness level - Lambrusco can be dry, off-dry, semi-sweet and sweet. A sweet wine should be paired with sweet food and vice versa. Lambrusco with some residual sugar can also be paired with spicy food.
Fruity aromas - Lambrusco is a fruity wine, which makes it possible to pair with aromatic food.
Light to medium body - makes it a perfect match with medium-intensity foods (cheese, charcuterie, pasta, chicken and lean meats). More full-bodied styles can be paired with heavier foods, such as lamb.
Medium high acidity & bubbles - Lambrusco is a slightly sparkling wine with medium-high acidity which makes it possible to pair with acidic and/or fatty dishes.
Lambrusco should always be served cold. The best serving temperature is 9-13°C (48-55°F).
Lambrusco with Local Italian Food
Lambrusco is mostly grown and produced in the Emilia-Romagna region. This region also happens to be home to a lot of famous delicacies, including the cheese Parmigiano-Reggiano and the ham Prosciutto di Parma. Emilia-Romagna is sometimes called "Italy's food valley" due to its many gastromic treasures.
Try to pair your bottle of dry or off-dry Lambrusco with one or a few of these savory delicacies. You will not be disappointed. Lambrusco also pairs well with several other classic Italian dishes, including pizza and pasta. Good local pairings include:
Parmigiano Reggiano
Charcuterie board with Prosciutto di Parma, mortadella and salami
Balsamico di Modena
Sausages, including Zampone o Cotechino
Ragù alla Bolognese
Tortellini
Pizza
Figs
Tips! For heavier dishes, such as a rich bolognese pasta, serve a more full-bodied style of Lambrusco such as Lambrusco Grasparossa di Castelvetro or Lambrusco Salamino.
Lambrusco with Pizza
Lambrusco and pizza is a fantastic pairing! The bubbles and acidity in the wine match well with the fatty cheese and the acidity from the tomato sauce. The fruity aromas are a great match with the herbs and rich flavors from the cheese and cured ham. Choose a dry or off-dry style. The hint of sweetnes in the off-dry Lambrusco will pair well with the sweet tomato sauce. Try Lambrusco with a pizza margherita or a pizza with salami or prosciutto.
Tips! Do you want to know more about pizza and wine pairing? Take a look at our Pizza Wine Pairing Guide!
Lambrusco with Pasta
Lambrusco and pasta is another great pairing. A classic pairing is the tortellini in broth with a dry Lambrusco. You can pair Lambrusco with several different types of pasta dishes, depending on the style of the wine. A lighter style will pair best with a lighter pasta dish, perhaps with shellfish. A more full-bodied style will go well with rich pastas with meat sauce, such as pasta bolognese.
Good pasta pairings for Lambrusco include:
Tips! Sprinkle your pasta with Parmigiano Reggiano cheese to improve the pairing!
Lambrusco with Turkey & Other Poultry
Lambrusco pairs well with different types of lean meat, especially poultry. Try the off-dry style together with chicken, turkey or duck dishes with spices or fruit. The hint of sweetness in the wine pairs very well with aromatic food. Lambrusco is in fact a great wine for Thanksgiving dinner. The fruitness in the wine will match the turkey and the cranberry sauce. This slightly sparkling wine also matches well with roasted chicken and grilled food.
Good poultry pairings with Lambrusco are:
Thanksgiving turkey
Grilled or roast chicken
Confit de canard (duck in the oven)
Chicken Milanese
Chicken curry
Chicken wok
Duck breast
Lambrusco with Meat
Most Lambrusco styles are light and sippy, which might not be the best pairing for steak and other heavy red meat dishes. There are, however, several dry, full-bodied Lambrusco styles which pair very well with sausages, lamb, pulled pork and burgers. Lambrusco Grasparossa or Lambrusco Salamino are the best choices if you want to drink Lambrusco to your red meat dishes. If possible, try one of these dry, bold styles of Lambrusco with grilled Italian sausages with fennel or other herbs.
Lambrusco with Fish
Lambrusco also pairs well with fish, just make sure you choose one of the dry and light styles not to overpower the delicate flavors of the fish. The acidity and bubbles in the wine will cut through the fat in the fish. Pair it with fatty fishes, ideally grilled sardines or grilled tuna. Compared to other sparkling wines, Lambrusco has more tannins and that is why it is an excellent pairing with grilled fish.
Lambrusco Cheese Pairing
Lambrusco is made in the same region as one of the most famous cheeses in the world - Parmigiano Reggiano. It also pairs well with similar cheeses, such as Romano, Pecorino and Grana Padano. A dry or off-dry style is usually the best pairing for this type of cheese.
Tips! Lambrusco also pairs well with figs and cured ham, which makes it an excellent wine to serve together with a cheese and charcuterie platter.
Lambrusco with Asian Food
Thanks to the hint of sweetness and fruity profile of the wine, Lambrusco can pair very well with aromatic and slightly spicy food. Choose an off-dry style and pair it with Indian curry, stir-fried Chinese noodles, Korean barbecue or other flavorful Asian dishes. Lambrusco with Chinese food is known to be a good match. Peking duck with the dry or off-dry style is a great pairing. The high acidity will match the fatty duck.
Lambrusco with Indian food is another a popular combination. Just make sure you choose a wine with some sweetness if you are having a spicy dish. The sweetness in the wine will balance the heat in the dish.
Tips! If the food is spicy, serve your Lambrusco extra cold!
Lambrusco with Fruit & Berries
An off-dry or semi-sweet Lambrusco can be paired with sweet berries and fruits. Good fruit and berry pairings for Lambrusco are:
Nectarine
Peach
Strawberry
Blueberry
Cherry
Lambrusco with Salads
Lambrusco is a light and refreshing wine that is perfect to serve with fresh salads on a hot summer day. It is especially great with salads with cured meat, shrimps, ruccola, cheese or figs. And most of all, make sure to pair Lambrusco with a salad (or bread) topped with Balsamico di Modena or similar.
Lambrusco with Chocolate
Some Lambruscos, especially the more full-bodied styles like Lambrusco Grasparossa and Lambrusco Salamino, have aromas of chocolate. These styles can be a surprisingly good pairing with dark chocolates. If you are drinking a dry Lambrusco, make sure to pair it with a chocolate that is not too sweet. It will make the wine taste dry and flat. If the chocolate is sweet or if it is a chocolate dessert, it is better to pair it with a semi-sweet or sweet style.
Lambrusco Dessert Pairing
The semi-sweet Amabile or the sweet Dolce styles of Lambrusco are both excellent pairings to sweet desserts. The sweetness in the wine will balance the sweetness in the food.
Popular dessert pairings for sweet Lambrusco are:
Amaretti cookies from Modena
Bensone cake
Cherry pie
Pie or cakes with nectarines or peaches
Butter cookies
Lambrusco Bianco Food Pairing
Lambrusco Bianco is the white style of Lambrusco. It is, however, made with the same red grapes. This gives a fresh sparkling wine with aromas of red berries. It is a light style with good acidity that pairs well with the following:
Light chicken dishes with vegetables and/or fruit
Fresh salads
Pasta with shrimp and/or cheese
Pasta carbonara
Parmigiano cheese
Grilled sardines and tuna
Charcuterie
Lambrusco Rosato Food Pairing
Lambrusco Rosato is the rosé style of Lambrusco. It is a refreshing wine which is slightly lighter than the classic red Lambrusco. The dry or off-dry style of Lambrusco Rosato is a food-friendly style which pairs very well with charcuterie, including mortadella and prosciutto. The high acidity in the wine cuts through the fat in the charcuterie. It is also an excellent pairing with different duck dishes. Try it with duck confit. If you are having an aromatic dish, make sure to choose an off-dry version.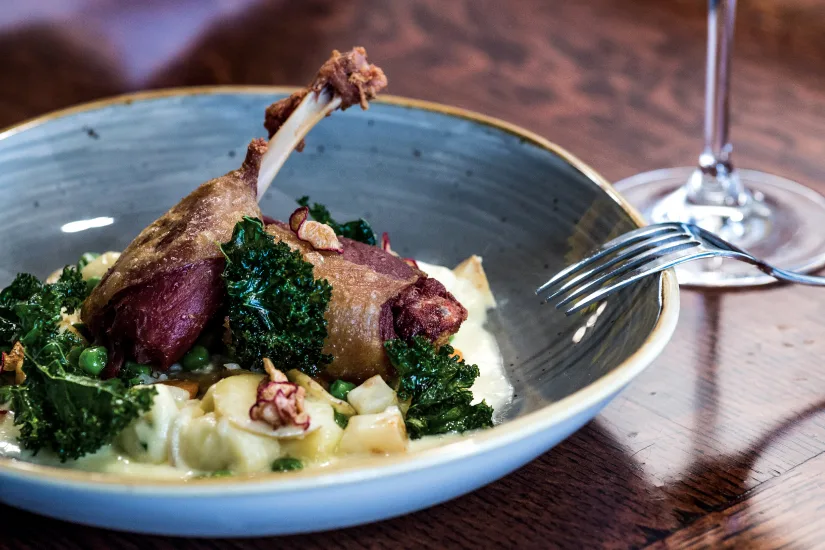 Good food pairings for Lambrusco Rosato are:
Duck confit or other duck dishes
Cheese platter
Mixed charcuterie, including mortadella
Grilled fish
Tortellini in broth
Pasta with tomato sauce
Pasta carbonara
Pasta with shrimp
Pizza
Enjoy your Lambrusco and your food!
Latest guides